MUMA is the Museum of Mathematics – which is being established as a Virtual Museum with this website as its public face. We are envisioning a future physical museum to complement this once the collections and knowledge bases have reached a critical mass, and after we have sought funding. We adopt the position that a museum is primarily a home of knowledge which is of benefit to current and future society.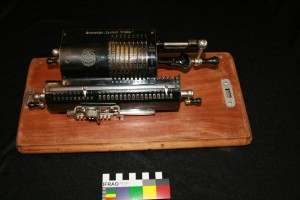 The Mission of MUMA
Our mission is to create and sustain an enduring legacy of mathematical knowledge and objects to provide an authentic source for the benefit of learners, teachers, researchers, and the general public. Access to this will be free for everyone, forever, and everyone is involved as a volunteer with there being no paid positions and no financial benefit to anyone involved. This is all done purely for the love of mathematics.
How You can Help
Once of our programmes is to build up a community of interested people and organisations who can contribute. This is all done for the benefit of mathematics and no-one will be paid for their efforts, and there will be no income arising from the work conducted by MUMA. All commercial activities are left in the commercial space and we rather would like to help the commercial providers with a powerful source of knowledge to help in their activities.
You can get involved in the following ways:
Donor: donating your collections, such as that of a teacher or research who wishes to donate their collection of books and papers, and physical artefacts.
Donations Support: this will involve the gathering and documentation of a donation, packaging, shipping, and ensuring that all forms have been signed, and that all rights are well known.
Storage Management/Conservation: as we grow we will need access to a permanent physical storage site, which can support ongoing conservation activities since much of the items are subject to degradation.
Collection Managers/Curators: who can assist with the management of the collections in each of the identified programmes.
Cataloguing: we have much material which has not been properly identified or catalogued, and this work can be done online using the digitised materials.
Member of Governing Body: we will need people who can help us to govern MUMA and this should cover a range of ages, interests, places, and skills.
Book Reviewers: we would like to get reviews of the books in our collection, or other mathematical books which we do not have as yet.
Virtual Exhibition Development: we can train you on how to create a virtual exhibition, and then to provide this online within the MUMA web site. Each will have a particular focus, often of an interest to the current world or national situation, or celebrating an anniversary of a particular mathematician.
Biographers: you can assist with creating biographies of mathematicians, and particularly those who are less well known.
Physical Museum Committee: we will forming a committee to envision and to plan for the physical museum.
Fund-Raising: soon we will be looking for funds, and would like to have specialist fund-raisers who can donate their time to obtaining funds for us. There is no fees of commissions which you will earn for this, since everyone donates their time pro-bono, for the sole benefit of society.
Outrearch: To ensure that MUMA is widely use, we will need volunteers throughout the country to make presentations to schools to help promote MUMA.
Programmes
Our work in MUMA is structured into  programmes which cover the full range of museum development and management. Our initial focus is on providing a resource for school-level mathematics, and over time this will extend to include the more specialised and advanced domains of mathematics. Another focus is on preserving collections which may be lost to time, such as collections of our mathematicians who pass away and for which their lifetime collections have nowhere to go. We are also focused on building up the governance structures, and to promote a volunteer culture.
Governance
Our Governance programme is ongoing to ensure sustainability of MUMA. This involves the development of our guiding documents and a Board of Trustees who can develop it through the initial gestation until it reaches maturity, and to then ensure sustainability of the collections, the relevance of the products, and the audience benefits.
Physical Collections
Calculating equipment : equipment which has the purpose of performing calculations, such as slide rules, mechanical calculators, electronic calculators, and computers
Measuring equipment : equipment which has the purpose of determining some measurement of units, such as rulers, scales, sextants, etc…
Educational materials : materials and equipment which is used for mathematics education, such as blocks, posters, sticks, …
Mathematics in nature : specific natural specimens which show mathematical properties, such as can be found in geology and biology.
Textbooks : a collection of textbooks as used throughout history, from the original mathematical textbook (Euclid's Elements) up to the modern day. This will also include born-digital texts.
General mathematical library: a library of non-textbook mathematical texts including both published works, articles, and reviews.
Knowledge Collections
Repository of examination papers : a repository of historical examination papers from various examination authorities.
Repository of mathematical problems: a repository of mathematical problems which have been used in the past for various assessment purposes such as summative, baseline, formative, and diagnostic.
Repository of curriculum statements : a historical repository of curriculum statements, showing the differences between them as curriculum policy changes.
Repository of mathematical images: a collection of digital/digitised images which illustrate mathematical content.
Thesaurus of mathematical terms and notations : the purpose of this programme is to provide a reference point for all words and notations used in mathematical descriptions, and to support discourse on definitions and meanings.
Mathematical theorems expressions and equations : theorems form an important core of mathematics and some theorems such as Pythagoras' theorem are well known by everyone from their school studies. Equations indicate important relationships between mathematical concepts.
Biographies and collections of mathematicians : building up biogaphical information on local mathematicians, and seeking donations of collections from mathematicians and from their estates.
Mathematical jokes : which often highlight deep mathematical principles.
Mathematics in the media: in which mathematics is used as the basis for specific media such as movies (such as Sneakers, in which the code-breaking pursuits of the "ethical hackers" was introduced).
Mathematics in industry: how mathematics is used throughout the various industries and the role that mathematics plays. This includes secrecy in digital communications (code-making and code-breaking), finance, engineering, space travel, natural sciences, architecture, design, and almost every industrial sector and discipline of knowledge.
Activities
The previous two programme structures are focused on collecting of physical and knowledge items.
Other programmes which are focused on activities which are needed to maintain the collections and to make these available.
Physical Home: conceptualising, designing, and developing a permanent home for the physical Museum of Mathematics
Physical Exhibitions: creating physical exhibitions, including both permanent and temporary exhibitions.
Mobile Exhibitions: creating exhibitions which can move from place to place, such as to schools and communities, to provide access to the collections
Virtual Exhibitions: creating online exhibitions which are accessible over the Internet
Storage and Conservation: ensuring best-practice storage and ongoing conservation of the physical items
Digital Repository: ensuring that all of the digital content is maintained in
Events: events which are related to commemorations, and to significant world events, in which mathematics plays a part. For example, the role that mathematics played in the ending of the Second World War, which has just had its 70th anniversary.
Educational Support: specific support for the educators, learners, and schools, in using the collections to enhance teaching and learning and mathematical appreciation and literacy.
Building a Community: building up relationships with all other institutions and individuals who are working towards the vision of a more mathematically-literate society.
User Support
MUMA provides support to various types of users:
School-level learners: provide a source of information to help with mathematics research, and access to useful resources.
School mathematics teachers: providing access to sources of educational materials for re-use as well as past examination papers.
Researchers in mathematics education: access to a large repository of authentic and trusted information.
Curriculum developers / policy makers: providing access to information to assist with the development of curricula and policy for mathematics education.
Assessors / examiners: providing access to useful resources of prior examinations and questions to assist with creating valid and reliable assessments.